GUY MARTIN vs The Fastest Woman in the World
Road Racing star Guy Martin has confirmed that he will be piloting a Suzuki Hayabusa Turbo in the upcoming ROAD RACING IRELAND 'North West Speed Trials' in Ballykelly on 11/12th May.
Always the thrill seeker, Guy keeps in shape as a keen Downhill Mountain Bike Racer and it will be in the pursuit of the ultimate thrill as he climbs aboard the Holeshot Racing machine. The sole intention of the exercise is simple; to go faster than he has ever gone before, and he has some fierce opposition from within the team at Holeshot Racing:
Jo Stevenson – The World's Fastest Woman @ 243.5 Mph
At a Speed event in 2012, Jo recorded four speeds between 226 and 239mph - riding a turbo bike loaned by Holeshot Racing - before beating the 241.48mph set by Canadian Trillium Muir.
Jo, who is mum to Ella, 12, said of her achievement: "It hasn't really sunk in and I still can't quite believe I've done it. I will definitely try again and breaking 250mph would be a dream. I am very excited about coming over and racing in Ireland. It looks like this is going to be a great weekend".
Jack Frost – UK Land Speed Record Holder @ 257.4 Mph
As Holeshot Team Leader, Jack is fortunate enough to have 2 high speed turbo Hayabusa bikes. His number one bike holds the UK Land Speed Record, back to back 257mph and 271mph on a one way top speed run. His number 2 bike has done 248mph. These are the mighty steeds that will also carry Guy Martin and Jo Stevenson to new highs at the North West Speed Trials.
Other Special Guests attending are multiple World Champions: Jim Redman & Ralph Bryans.
The Fastest PRESS LAUNCH in Ireland
The image titled "Jack SHACKLETON 208mph" (attached) was taken in Shackleton Airbase at the event press launch. The speed set by Jack Frost on a 'slow' pass was 208 Mph, meaning that this venue has ALREADY seen the fastest ever motorsport in Ireland!
ROAD RACING IRELAND Director Wallace Rollins said "We are delighted to be associated with this event and thrilled to be able to support Wayne Owens and his team. Hopefully this will be the start of a long association".
This event is aimed at Modern & Classic Bikes, Trikes and Cars. Wayne Owens of REAL TIME PROMOTIONS:
"Our aim is to see as many vehicles as possible eclipse the 200 mph mark, thus joining the '200 Club'. A few of our specially invited contenders will even push 230+ mph, making this Ireland's Fastest Ever Motorsport Event."
· The ROAD RACING IRELAND 'North West Speed Trials' will be the FASTEST EVER Motorsport Event in Ireland.
· Top Speed Trials will take place on Day-2 of the event, on Sunday 12th May at Shackleton Barracks, Ballykelly, Limavady.
· Action from 11am (Saturday) and 1pm (Sunday).
Entry Forms are available to download from: http://www.nwspeedtrials.com/

REFERENCES:
EVENT ORGANIZER: Wayne Owens (T) 07791 976672
- http://www.realtime-promotions.com/

GUY MARTIN - http://www.guymartinracing.co.uk/
JO STEVENSON - http://suzukibulletin.co.uk/2012/09/14/meet-the-worlds-fastest-woman/
JACK FROST - http://www.holeshot-racing.co.uk/
Attachment - Redman Bryans Owens (L-R):
Photo By Baylon McCaughey
- Jim Redman (Multiple World Champion)
- Ralph Bryans (Multiple World Champion)
- Anthony Owens (Multiple Irish Champion on 2 & 3 wheels)

Attachment - Shackleton Group Shot (L-R):
- Colin McAleese (Rally Escort, Ballymoney)
- Jennifer Blaney (Model, Antrim)
- Jack Frost (Holeshot Racing, Dromore)
- Leslie Magee (Model, Letterkenny)
- Wayne Owens (Organizer, Saintfield)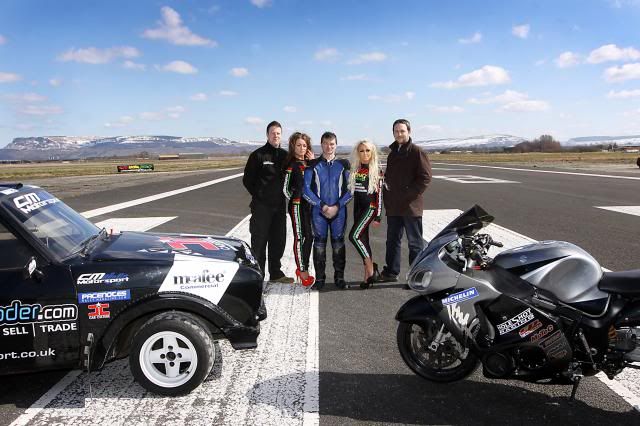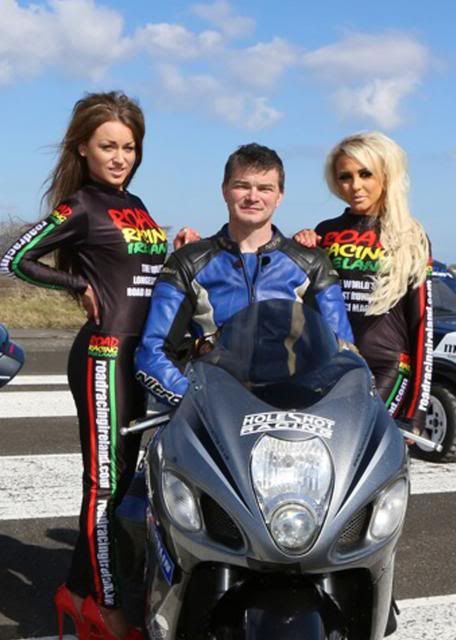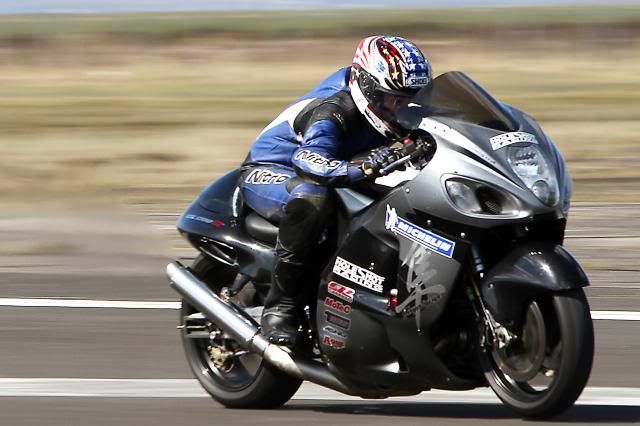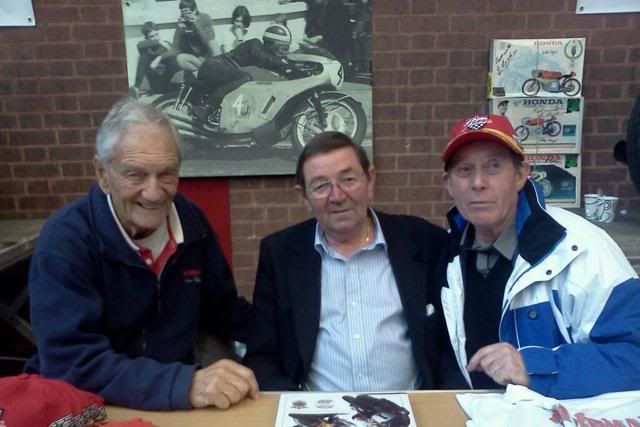 Click this link !
http://between-the-hedges.pwp.blueyonder.co.uk/Q%20Radio%20Ballykelly%2030sec%20apr10.mp3