Slim pickings at Dundrod for Burrows
IN the recent past Cookstown/BE Racing's John Burrows has stood on the rostrum at Dundrod but there were only relatively slim pickings for the big Dungannon man at this year's 'Bikeweek' on the famous Ulster circuit.
At the Dundrod 150 meeting, the annual dress rehearsal for the Ulster GP, Burrows only had one race. Riding his Cookstown/BE Racing GSXR 1000 Suzuki, he finished sixteenth in a race won by Michael Dunlop. Burrows lapped at over 125 mph but still finished outside the top ten, that fact clearly emphasises the quality of the field.
Burrows was tipped to be a top three finisher in the Supertwins race but played only a spectator's role as his KBM Kawasaki was not available after an engine failure at Armoy.
The Ulster GP started with the Superstock 1000 race from which Burrows sadly retired his Kawasaki ZX10R.
Burrows did not ride in the Supersport events at the meeting so next up was the Supertwins race. Winston McAdoo kindly loaned Burrows a Kawasaki 650 for the race but with no qualifying time on the machine, Burrows had to start from the back row of a massive grid. He worked his way up to the battle for tenth before his hopes of a decent result were cruelly thwarted by a loss of power.
Burrows needed to salvage his weekend with decent results in the two Ulster GP Superbike races and he did just that.
In the first Superbike race he was involved in a dogfight with England's Ben Wylie and Tramore's Brian McCormack with the trio finishing in 14th, 15th and 16th positions, respectively.
In the second race, Burrows produced his fastest ever lap of the 7.4 miles Dundrod circuit (127 mph) to take fourteenth position at the end of the six laps. He finished clear of Jamie Hamilton, who had taken second in the Supertwins race, BSB competitor Dan Cooper and Davy Morgan who had earlier won the 250GP race.
Burrows will now prepare for the Irish Road Racing Championship finale at the Killalane road races in September which will see him in action for the last time this season. He will travel to the County Dublin venue with the ambition of securing top three championship finishes in the Superbike and Supertwins classes.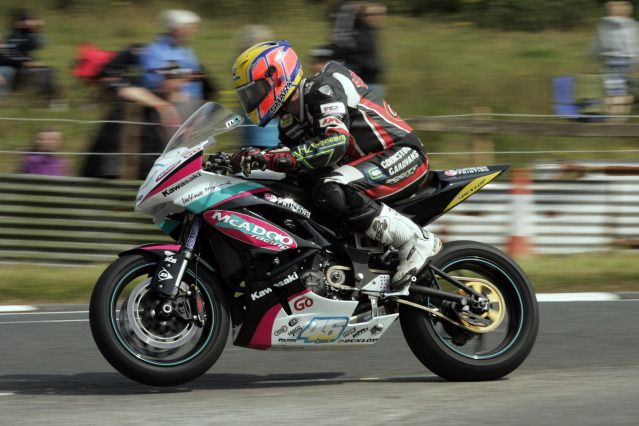 Photo;
John Burrows on the McAdoo Kawasaki Supertwin machine