Nostalgic Day at St Angelo

With a mix of past Irish Championship winners, and a person who has won Irish championships on two/three and four wheels , The entry list for this Saturdays Eniskillen 100 (25th August) revival is shaping up to be a very exciting one.
It is Sixty years since the last event took place, and this Saturdays event, has been brought about by Eniskillen and District Council, to mark the revival of the Eniskillen Road Races, which were a popular event on the Irish road race calendar, many years ago.
The original Enniskillen road races took place in 1929, same year as the First NW200!, The course ran from Mossfield-Syndare-Ballinamallard, not far from Enniskillen town, and not far from this weekends event.
Like many road races, many top riders graced the circuit, including Malcolm Templeton, George Brockerton, Artie Bell, Louis Carter (lap record holder @86.54mph) Rob Fitton, and locals including Fonzie McGovern.
Nostalgia is the theme for this Saturdays show, and with Riders such as Ray McCullough, Adrian Craig, Trevor Steele, Michael McGarrity, and Brian Hewitt all taking part, it will indeed be an unique event.
Harry Lindsay, from Dublin, who competed in the last Enniskillen road race has also agreed to be there this weekend, there will also be a 500 Triumph, which was raced at the same event, now belonging to former Grass track and solo road road race champion, Gordon Bell, no doubt, this will create some interest, this machine was raced at the Enniskillen races by his father George.
Former motor cycle racer, now competing in four wheels, Anthony Owens, the only person who can lay claim to have Irish Championship titles on two/three and four wheels, will be in attendance, with a 250 Bultaco, and a Renualt Clio, which does the quarter mile in 13.5 seconds!
The ex Freddie Protat 500 ROC Yamaha will be there, as will Tony Rutters 1973; 350 North West winning Offendstadt Yamaha.
Speaking of records, the Fastest man on Two wheels will also be in action!, Jack "Jarrod" Frost will bring his Tricked up Hayabusa Suzuki, which holds the land record for the Fastest motor cycle speed record at an amazing 222.17 mph!, that's covering a mile in less than sixteen seconds or lapping the IOM TT Circuit in less than ten minutes!
Sidecars will also take part in the action, with the O Neil brothers taking part.
The St Angelo airfield, where this weekends action takes place, was officially opened in 2005 by local rider, the Late Richard Britton, this weekend, there will be a display of some of the bikes, as raced by Richard.
Some Memorablia from the Races will also be on display.
Historic and Classic cars will also be running on the circuit and there will be a great selection of bikes and cars on show in the static displays. The PSNI will be attending and organising a Bikesafe event to promote rider safety, along with a Fire and Rescue Service demonstration.
We are aiming to make this a family friendly event, with a funfair, minimotos, Rider Interviews, stalls and games, something for everyone.
The event is being promoted by Realtime Promotions.
Gates open at 11.00am, the venue will be signposted, so why not come along, and recall the Eniskillen 100 road races.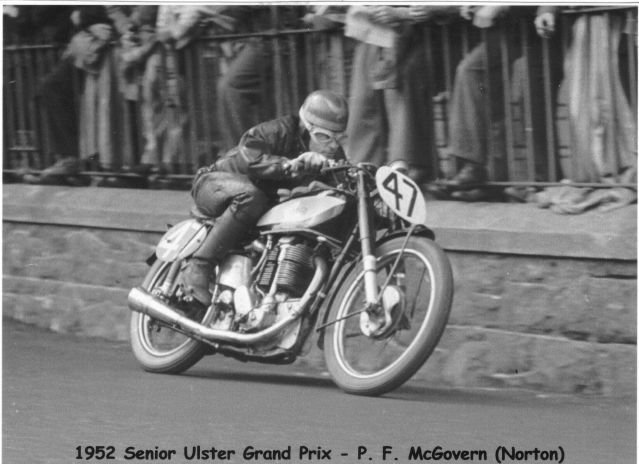 Enniskillen rider, Fonzie McGovern, pictured here at the UGP, a local rider who raced at the Eniskillen Road Races.
Thank You for your Co-operation
Regards
Baylon McCaughey