D&GW 250cc Irish Short Circuit Championship

Round four of the 2012 D&GW 250 Irish Short Circuit Championships took place at the Bishopscourt Circuit in Co-Down last Saturday, as part of the Support class's for the Adelaide Masters round.

Going into Saturdays two 250cc races, Randlestown rider Nigel Percy on the D&GW Honda had a comfortable 23pts lead over second place man Thomas Lawlor, but Percy's lead was slashed after Saturdays races to just 12pts after Percy failed to finish race two after his machine expired while leading with just two laps remaining.
In Race one, Percy took the race win from Richard Glasgow and Thomas Lawlor after the race was red flagged due to an incident involving Nico MaWhinney, who crashed out thankfully without injury.
Percy looked to be on for another double in race two only for the gremlins to encounter him with two laps remaining, leaving the way clear for Lawlor and Glasgow to battle it out for the top honours with the race win going to Glasgow on the JPS Honda by just 0.14 seconds from Lawlor and Ciaran Donnelly.

The penultimate round of the Championship is scheduled for Saturday 22nd September, again at Bishopscourt.



D&GW Championship Standings:
1 = Nigel Percy (Randlestown) D&GW Honda 3 wins 167pts
2 = Thomas Lawlor (Kildare) Honda 1 win 155pts
3 = Richard Glasgow (Cookstown) JPS Honda 2 wins 115pts
4 = Nico MaWhinney D&GW Honda 3 wins 111pts
5 = Ciaran Donnely Honda 80pts
6 = Trevor Reid AWT Yamaha 49pts
7 = Ronan Shanahan Honda 48pts
8 = Tommy Henry Honda 46pts
9 = John Ella Honda 11pts
Richard Glasgow with Adelaide Insurance girls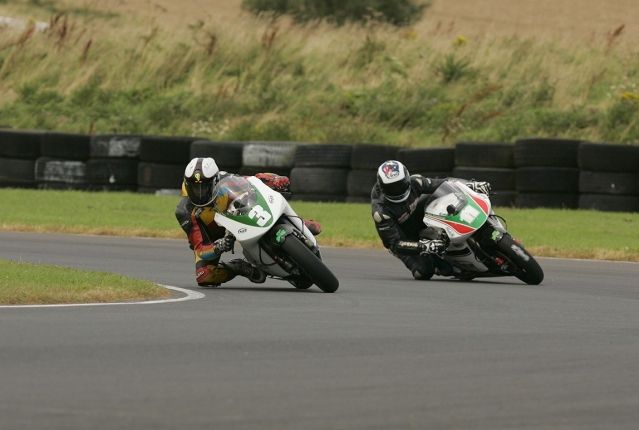 Nigel Percy and Nico MaWhinney in hot action.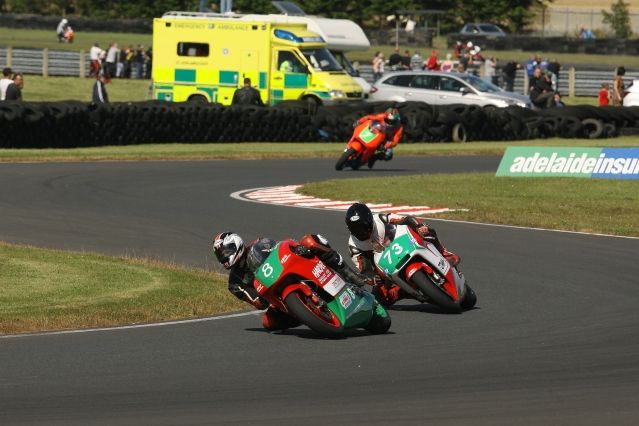 Richard Glasgow leads Thomas Lawlor on the last lap in race two.