Marshalls Pay respect to Lee Vernon
On Thursday 9th august, motor cycle racing lost one of its brightest up and coming stars, Lee Vernon, a 24 yr old motor cycle mechanic from Stoke on Trent, who not only was an up and coming rider in the sport of Road Racing, but was one of the nicest, friendliest persons one could ask to meet.
His accident during the Dundrod 150 race cast a cloud over what was otherwise a very successful meeting.
Lee, known to many as " The Flying Oatcake" crashed at high speed at Rock Bends, and despite the immediate response from the Marshalls at the scene and with the best of Medical attention, he sadly passed away almost 24hrs later.
His family agreed to go along with Lee's wishes for his organs to be donated, so his memory will live on.
On Saturday morning, prior the start of the race, a minutes silence was held in memory of Lee, and at the spot where he crashed, the Marshalls who attended the scene of the accident, some of whom were personal friends of Lee, paid their own mark of respect to their fallen hero, by laying flowers at the scene..
Speaking on behalf of the Marshalls, Anton wished to convey their Deepest Sympathies to the Vernon Family and friends.
Photo;( c/o Alan Armstrong)
Marshalls who attended the incident, pay their Respect to Lee Vernon.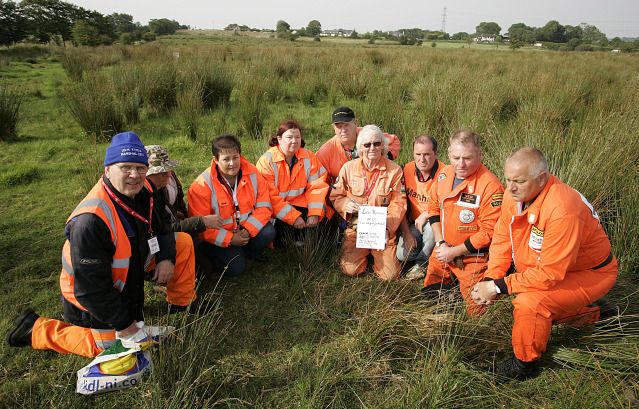 From Left to Right;
Peter Dyson, Paul Quinn, Hazel Turner, Joanne Sweeney, Michael Hill, Laim Hartley, Anton Martin, Stevie Blair and Colin Hill.